new pu shoe-making machine
One, designs aspect in machinery structure:
1、 Adopt A1,A2,B three material jar structure form, the organic commixture realizing A1B and A2b, may Produce the sole products being unlike density, being unlike the foaming monomer of colour, also being to produce the two-tone two density complex;
2、 Expects that liquid is respective according to A1,A2, the B PU the proportion call for, adopts to wear a needle away three set never Valve autonomous working commixture head structure;
Two, in the field of autocontrol:
1、 Adopt a labor to charge machine for coming to structure the hardware platform, t design special use software, puts the complete machine autocontrol into practice; The man-machine developing by self handles
2、 An interface, has functions such as setting up the data, real time supervisory control, showing; The rotation rate measuring a pump adopt frequency conversion under the control of way.
3、 Whose merit is energy conservation, during the period of voltage is unsteady Make a rotation rate be is stability.
4、 Adopt special use Yu to owe equipment temperature, date collect the module the temperature controlling material, makes the temperature be in state never out of control.
Three, the parameter

pouring machine model

JG-801

Tank quantity

3

Tank capacity

250L

Pump quantity

3

Speed of pump(r/min)

0---280

Precision (%)

±0.5

Max rotating

Speed of injection screw

8600-10000

Clean the head

Automatic

Voltage

380V

power

15(kw)

output

70(k/s)

Clean quantity

9000(r/min)>160

Clean the superfluous material

<25g

Product characteristics

Two color, two density Produce PU and transparent PU soles at the same time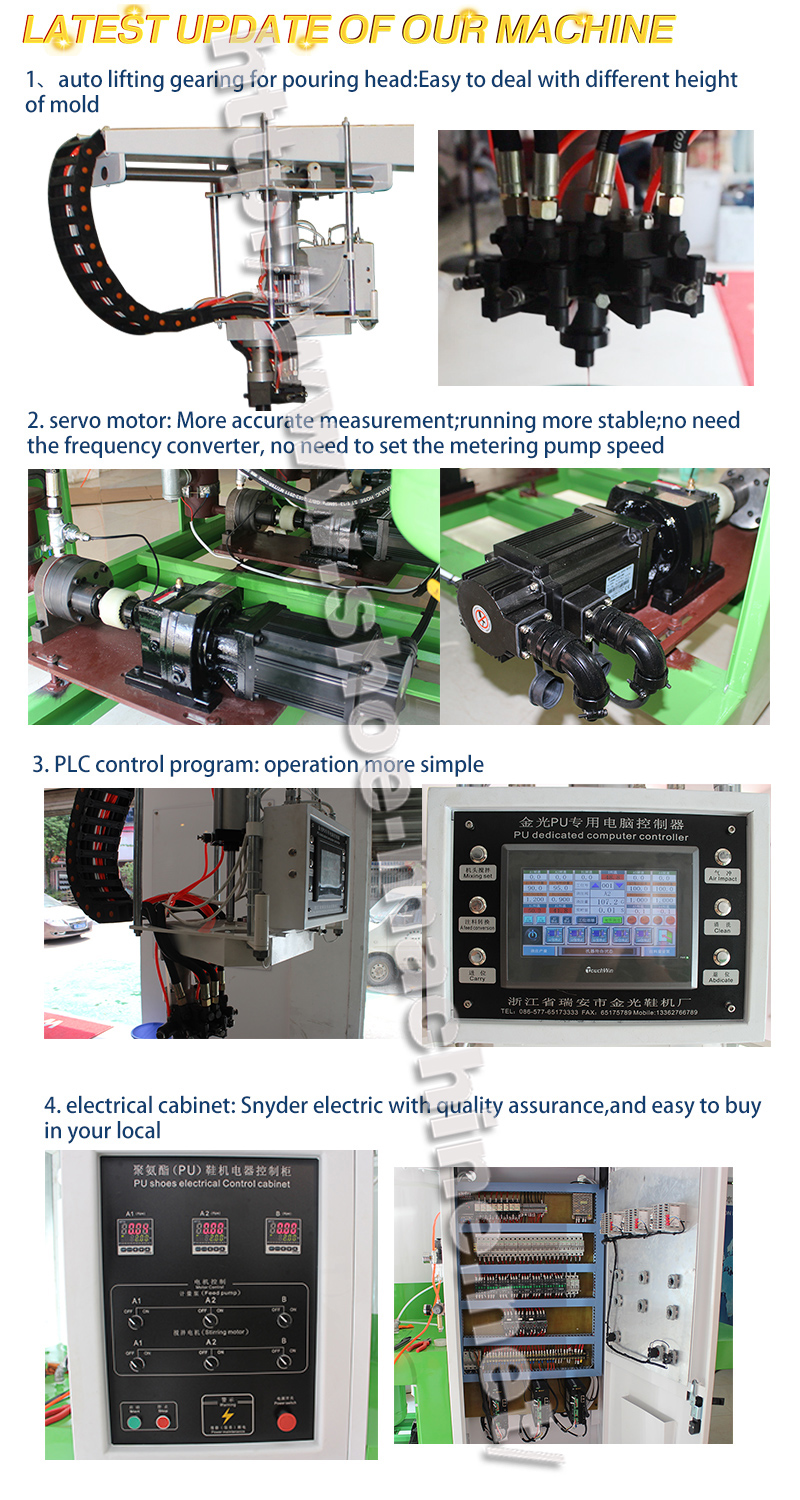 The whole producing line include one main machine, one 60 station convey, one oven
1.main machine
2.60 station producing line(conveyor)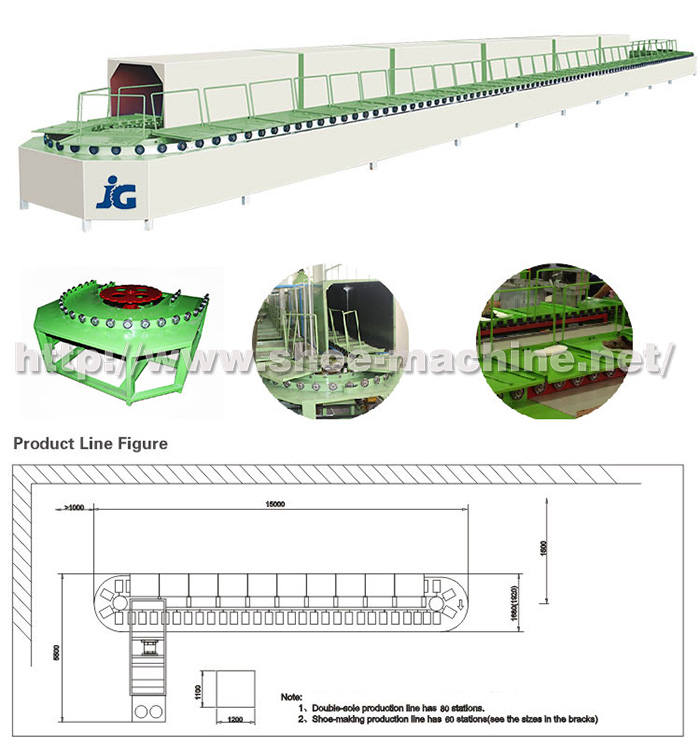 3.The raw material oven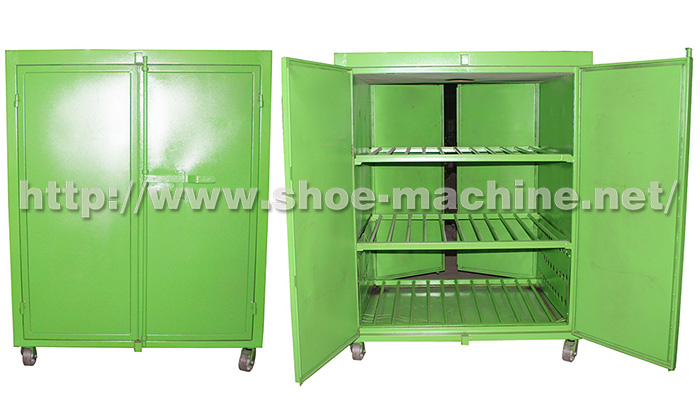 Can produce safty shoes, leathe shoes, sandal shoes etc.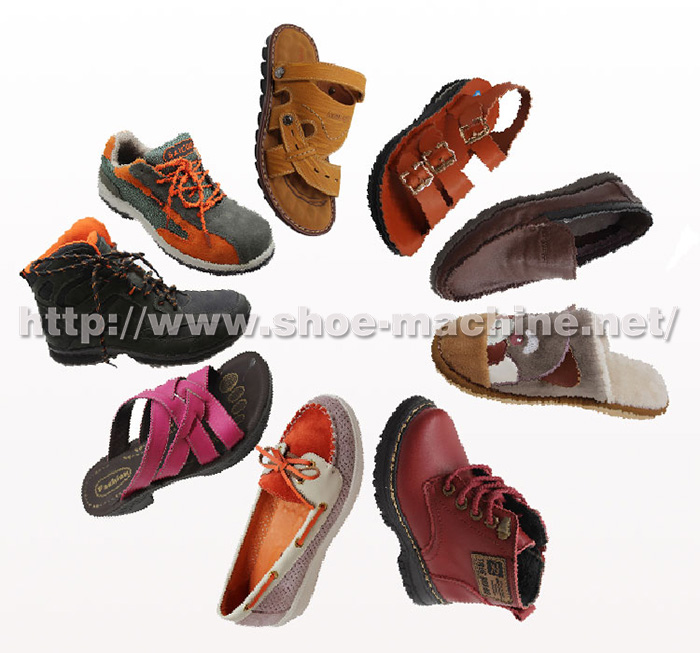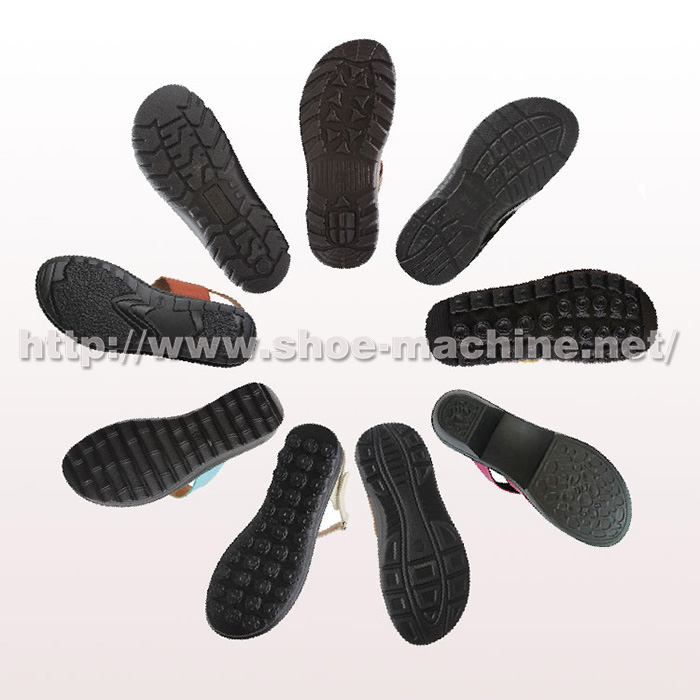 The packing and shipping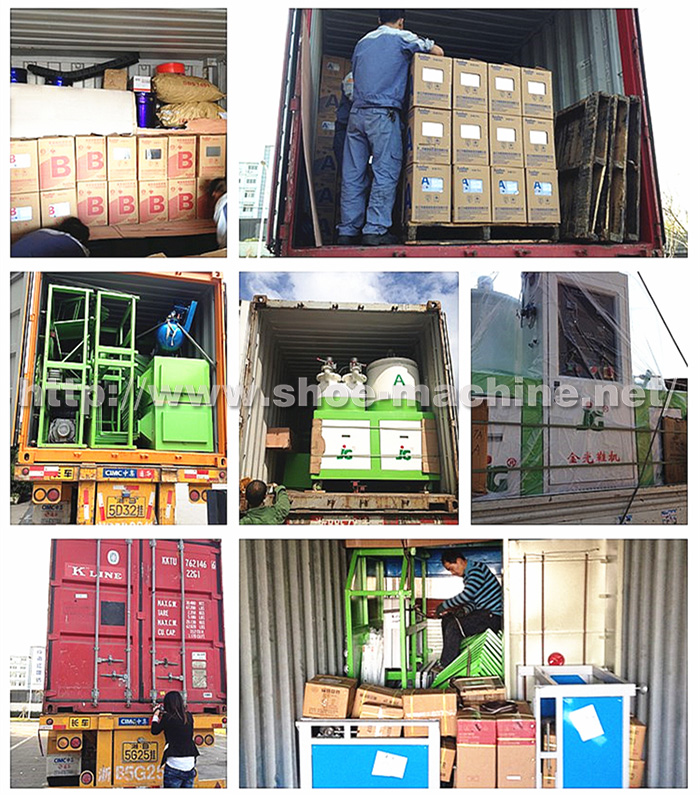 The production workshop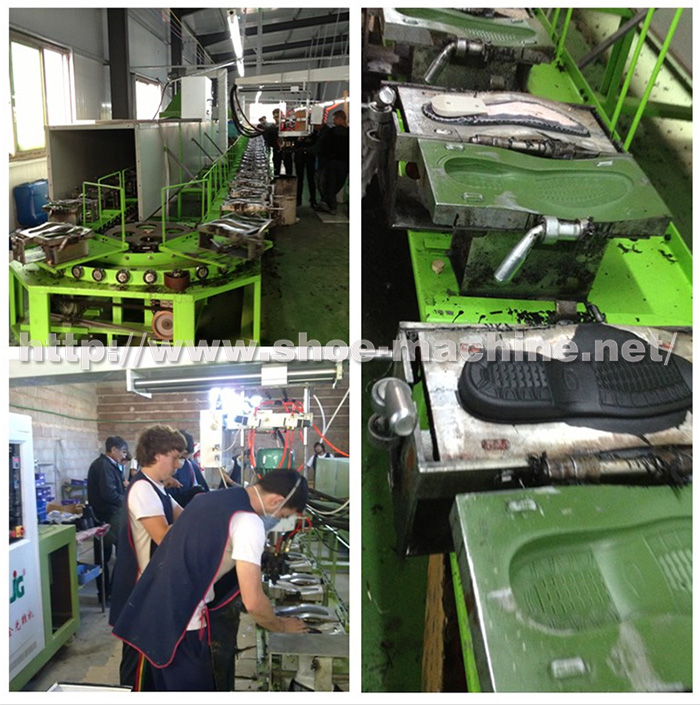 Attend trade shows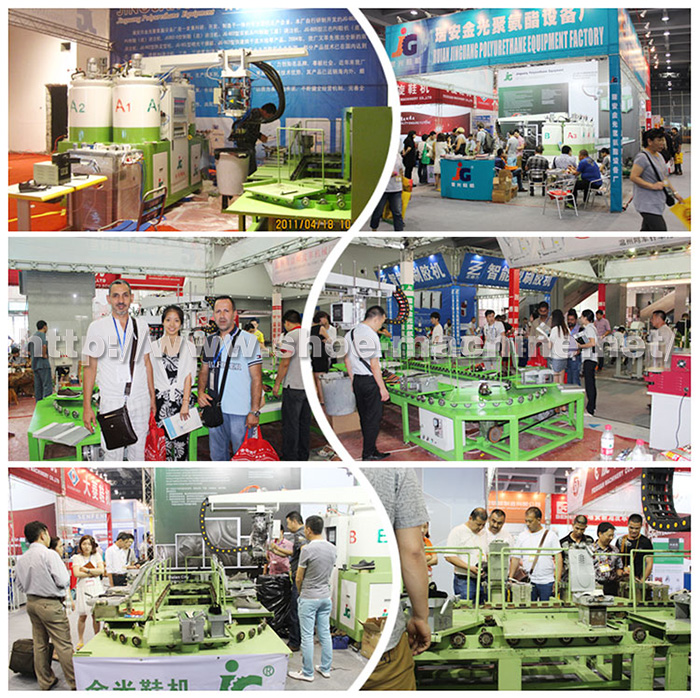 Some spare parts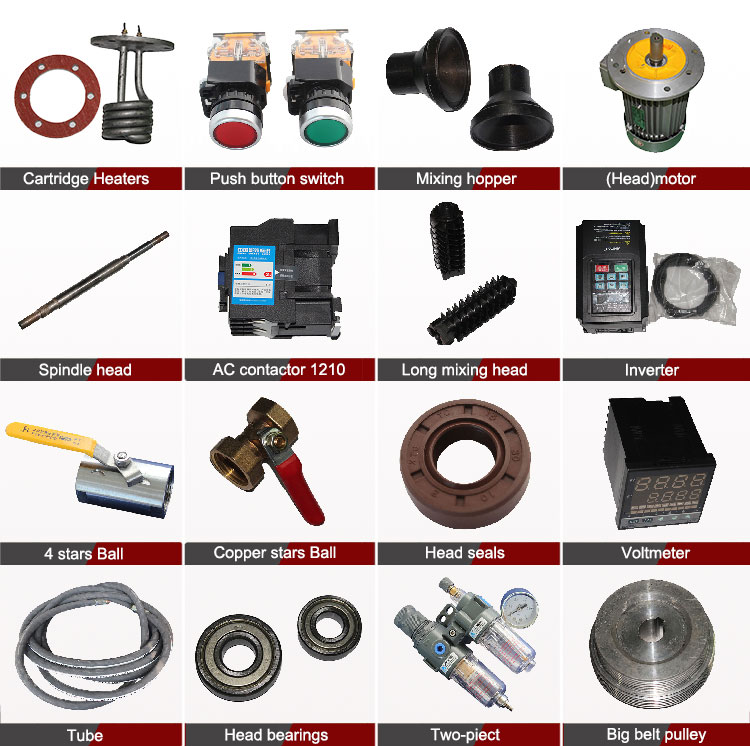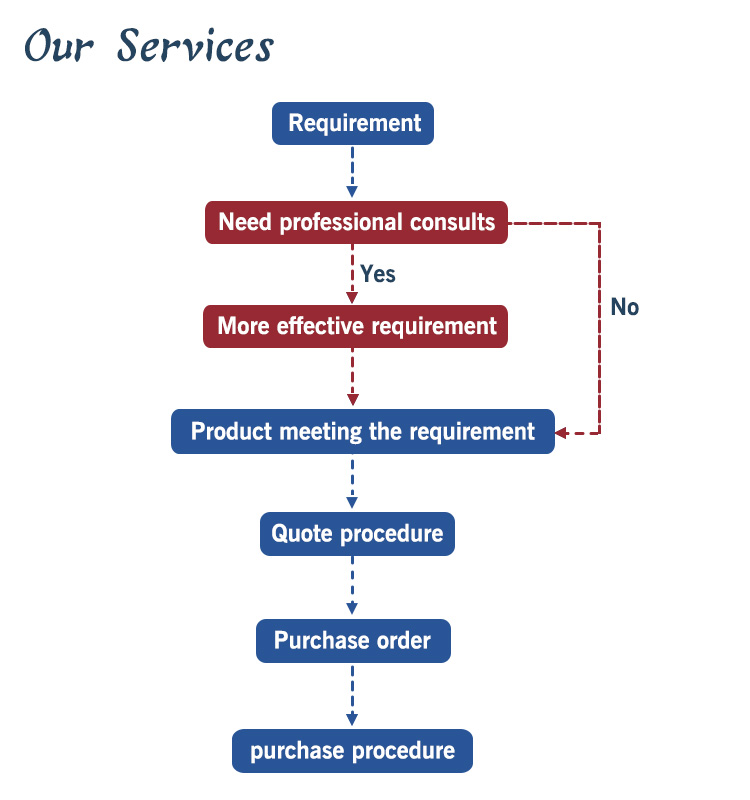 Company Information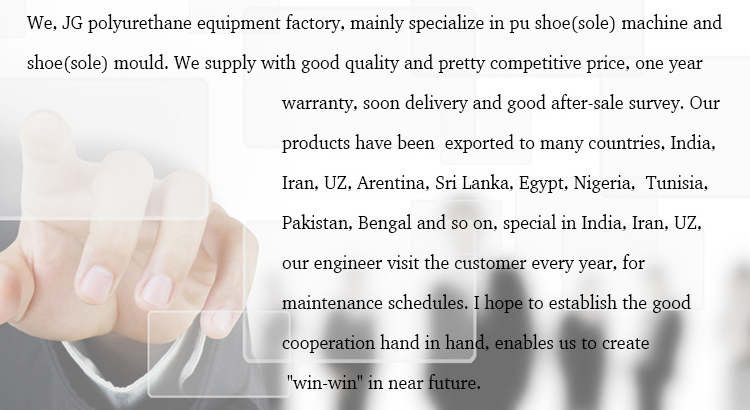 FAQ